EDIT MAIN
Meet Your Teachers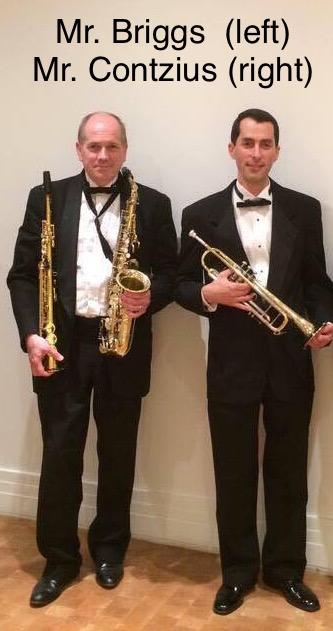 Mr. Briggs
WHS Concert Band/Jazz Ensemble Director & Woodwind Group Lessons Instructor
Education: Crane School of Music/SUNY-Potsdam - Bachelor of Music Education & Master of Music Performance; Massachusetts College of Liberal Arts – Masters in School Administration
Musical background: 36 years professional experience in saxophone performance and public/private instruction. Principal alto saxophone for the New York Wind Symphony. Lead alto and musical director for the New York Swing Exchange big band. Freelance musician on all woodwind instruments.
Professional affiliations: National Association for Music Education, New York State School Music Association, Orange County Music Education Association
Mr. Contzius
WHS Wind Ensemble Director & Brass/Percussion Group Lessons Instructor
Education: Indiana University, School of Music - Bachelor of Music Education & Hofstra University, Department of Music - Masters of Fine Arts (Wind Conducting)
Musical background: 34 years experience on Trumpet, member of the New York Wind Symphony, private brass instructor, guest conductor.
Additional professional background: College textbook co-author of "Instrumental Music Education - Teaching with the Musical and Practical in Harmony" - being used by over 40 colleges in the USA for music education majors.
Professional affiliations: National Association of Music Educators, New York State School Music Association, Orange County Music Education Association,
Interests outside of music: loves spending quality time with his wife Ashley and son Cole, performing magic, kite flying, pets (three cats and two fish)
CLEAN YOUR INSTRUMENT!
Click here to watch a how-to video for your instrument.
Make sure your instrument is in excellent playing condition by having it play tested by and serviced by professional. Small issues can make an instrument difficult to play without you knowing what the problem is (but a professional can!). Contact us if you need assistance finding an instrument repair person.
Brass instruments - if you never had your instrument professionally chemical cleaned it is HIGHLY recommended. Otherwise, view the videos on our band website so you can wash the inside of your instrument, oil the valves, and grease the slides.
Woodwind and Percussion Players – View the videos on our band website for your specific instrument.
Band Lessons tutorial (click below):
Click here to see a tutorial on how to use the Band Lesson Schedule
High School All County Festival Friday, January 27: Bus on Friday from WHS @ 2:45pm and returns @ 9:30pm. Saturday, January 28: Bus on Saturday leaves WHS at 7:45am (no bussing home). Festival location: Newburgh Free Academy - 201 Fullerton Ave. Newburgh, NY 12550
Bus permission slips were given out in class. Pack your own food as there is no food available to purchase. Turn in your ticket orders to Mr. Briggs or Mr. Contzius ASAP. Band students must bring your own folding music stands (with your name on it).
Best Percussion Instrument Ever
Gustav Mahler's 6th Symphony
Click on the below links to see the coolest instrument ever written for orchestral percussionists...
The Hammer Stroke!
Historical Recordings from 1959 - 1971
The story begins: Around a year ago while cleaning out an old closet in the music department we came upon a large box. The inside was filled with old reel to reel recordings of the WHS Symphonic Band from 1959 -1969! Our music department is lucky to have the help one of our music parents, Mr. Wu, to bring the sounds of our past alive once again! His hard work of transferring these priceless 40 year old recordings to a digital format starts the beginning of building a collection of our music department's history.
Putting our past together: As this year progresses we hope to have many more recordings available to listen to. Additionally we hope to be interviewing band members from the past and present to share their memories of our ensemble's heritage. I will eventually have available an on line interview questionnaire for all past alumni, of any year, to share their memories with our present members. In particular, if you know of anyone who was a member of the band between 1959 and 1971 please contact us so we can have them share their memories. Additionally we are interested in posting photographs of the band and chorus from past year and other existing personal photos. If you have access to any photos from the past you would like to share please contact us.
My goal and hopeful legacy to the Washingtonville Music Department is to leave a comprehensive written, visual, and audiated documentation of our music department's past. I hope that our community will help me build this small dream of mine.
With Great Sincerity,
Mr. Contzius
WHS Wind Ensemble Director
Click here to view musical selections from the 1964 Symphonic Band